Er is weer een week voorbij en onze nieuw sketch staat online! Deze week is de schets gemaakt door Wilma Z. en ja het is weer een ontzettend leuke sketch om mee te werken.
Onze sponsor deze week is Quixotic Paperie en zij geven ook deze keer weer een ontzettend leuke prijs weg aan de winnaar!
Meer informatie en de prachtige voorbeelden van team Holiday Faries vind je uiteraard op ons
blog
.
Another week has gone by and our latest sketch is online! This weeks sketch is made by Wilma Z. and yes it´s again a great sketch to work with.
This weeks sponsor is Quixotic Paperie and again they have a lovely prize for you to win!
More information and the great samples team Holiday Faries made for you are to be found on our blog.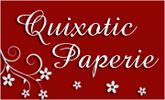 Voor mijn kaart heb ik papier gebruikt van Maja Design, een stempel van Magnolia en deze is ingekleurd met Copic Markers.
Veel plezier met de sketch!!
For my card I used papers from Maja Design, a stamp from Magnolia and I colored it with Copic Markers.
Have fun with this weeks sketch!